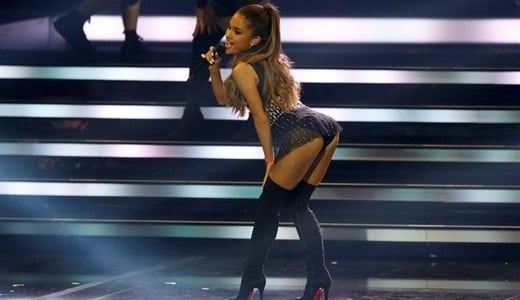 ---
Ariana Grande flaunts her tight little ass while performing at the Bambi Awards in Berlin, Germany in the photos below.
One can easily see why Ariana Grande would win a Bambi Award, as every red-blooded Muslim male certainly wants to thump her… Not with our mighty manhoods of course, but rather with our righteous stones for being such an ungodly nubile cock tease.
Yes Ariana's slutty antics and Kewpie doll good looks enrage us pious Muslims, as we know that she has forsaken her Allah given purpose of getting on all fours and squealing like a filthy pig as us Muslims pound away at her bunny holes. Instead Ariana has chosen a life of sin by strutting around half naked for the profits of Zionists, and promoting blasphemous race mixing with her crappy rapper boyfriend. Surely some divine retribution is coming Ariana's way soon.