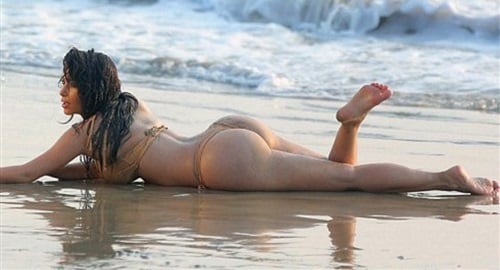 ---
Below are some behind the scenes photos from Kim Kardashian's recent thong bikini beach photo shoot.
It is amazing to see how much effort goes into trying to capture Kim Kardashian's engorged hindquarters on film. For in the 2nd photo it appears as though the noxious fumes emanating from Kim's ass knock over the assistant in pink (and possibly infected her with AIDS).
While in the 3rd photo the male assistant must constantly spray Kim's booty down with a concoction of liquid jobs and paternal responsibility to keep any blacks in the vicinity from trying to "holla" at Kim while they are working.
Yes, as these behind the scenes pics show photographing Kim Kardashian's ass in a thong bikini is a daunting and dangerous task.