---
18-year-old former Disney star Bella Thorne was caught on camera on her foppish boyfriend's public Snapchat telling him that she wants him to f*ck her ass in the video above. After the butt banging Bella then proceeds to go about her normal day prostituting her sinful tight teen female body in a silver bikini.
Just when it looked like once again us pious Muslims would have to denounce Bella for her brazen sluttery, we stumbled upon these new behind-the-scenes photos of Bella flaunting her booty while modeling swimsuits.
As you can see from these photos, Bella Thorne has one extremely interesting feature… Of course I am talking about the crescent moon tattoo above her right ankle.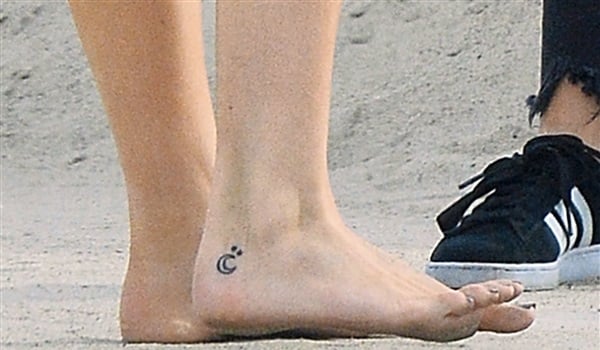 Yes the crescent moon is the sign of Islam, and so this branding is proof positive that Bella Thorne is a secret Muslimina who was sent to the West to promote depravity and thus hasten its destruction. From this day forward we will do all that we can to assist Bella in her righteously degenerate mission.