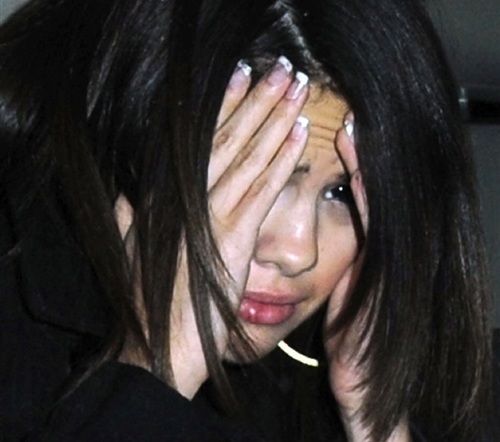 ---
Selena Gomez and her girlfriend Justin Bieber had dinner at Maggiano's at The Grove in Los Angeles last night. On their way out a female (presumably lesbian) Justin Bieber fan punched Selena Gomez in the face.
As you can see in the photo above Selena was in tears as she tries to hide her face from the photographers. Her lip is clearly red and swollen from the punch. No word yet on who the Justin Bieber fan was that initiated the attack, but it is almost certain that Justin did nothing to defend Selena and probably curled up into a ball on the ground and waited for the confrontation to end.
As you know we here at Celeb Jihad aren't prone to taking part in wild speculation, but it seems like this is something Selena's ex-girlfriend Demi Lovato would do. We know she just got out of that mental institution for punching some girl in the face, and that she is severely disturbed and obsessed with Selena. Just something for the authorities investigating this to think about.