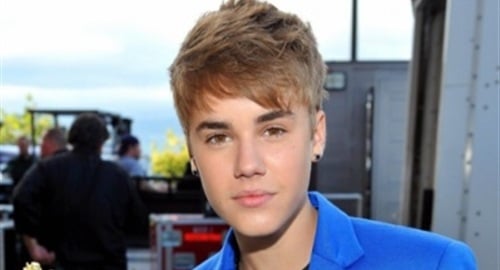 ---
Justin Bieber has come a long way in trying to find a sex and sexual entity. We remember Justin Bieber starting out as a transsexual kid with scrawny arms and sunken chest who couldn't decide if he should take it up the butt from guys or take it up the butt from girls with a strap-on. Well as we know from Justin's relationship with Selena Gomez he has settled on the later.
Justin Bieber choosing to be a woman was not much of a stretch considering his obvious feminine appearance. However, Justin deciding to a lesbian as well would take some work, but Justin was up to the challenge.
The first step required Justin to cut off his famous bangs which were similar to the Beatles and thus too "butch". Justin instead went with something much more lesbian with the classic Ellen Degeneres spiky swoop hairstyle.
And now, as you can see in the picture above, Justin Bieber has finally completed his lesbian transformation by getting both his ears pierced. These earrings accentuate his feminine features, yet give him the bad girl edge that says "hey girls who is down for some scissoring tonight". Selena Gomez must be so proud.