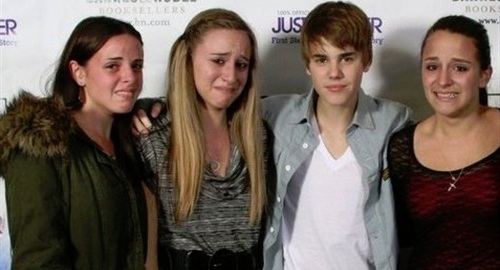 ---
Say what you will about Justin Bieber, but he really loves his fans. As is evidenced by the court documents filed by Justin Bieber fan and alleged baby mama Mariah Yeater, who claims that Justin took her into a bathroom and told her he wanted to "f*ck the sh*t" out of her but only lasted "approximately 30 seconds".
Clearly Justin Bieber isn't one to take this bad press lying down. That is why in an effort to save his dwindling tween sex symbol status Justin Bieber took 3 girls into a bathroom, and by the expressions on their faces Bieber obviously showed them the time of their lives.
Justin Bieber has definitely proven his sexual prowess, as those appear to be 3 extreme satisfied young ladies. In fact all my wives make that same face when I tell them I will be doing them the honor of inviting them into my bed that night. I guess some guys like Biebs and I are just gifted like that. Allahu Akbar!