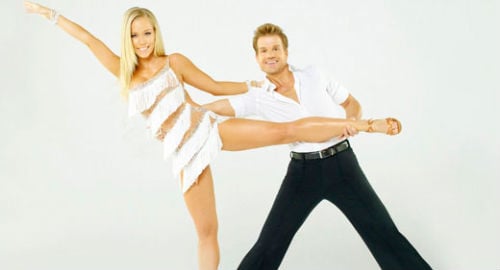 ---
We all know Kendra Wilkinson from her days as a high-class prostitute to the sultan of skanks, Hugh Hefner, but did you know that she also dances for money on the show Dancing with the Stars?
Correction: danced for money, because last night the judges wisely kicked her off the show.
You see, Kendra is married to Hank Baskett who is a "free agent" in the NFL, aka unemployed. And even though we all know it is a man's duty to support his wives, he chose to force Kendra into slave labor rather than get a real job. Pathetic.
The 25-year-old told People magazine about her disappointment in having to go back to her lazy husband. "I'm going to miss the glamorous life – the best hair and makeup, the best costumes, the best partner."
Things that she should have been provided by her husband. But when asked for a response, Hank replied that he is proud of his wife and her strength— dangerous accolades to give any woman, as they should remain humble and loyal. "I give her props," he explained. "I told her that the best thing about it is she showed the world how incredible of a woman she is."
Let this be a lesson ladies: If you want a husband who will provide for you, make sure you don't choose one who is as much of a pussy as Hank Baskett.