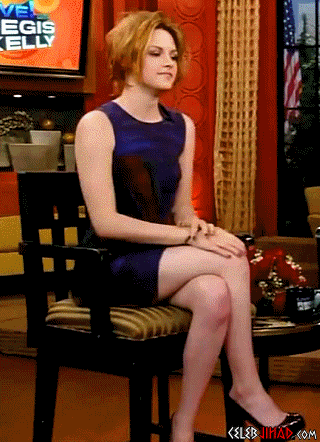 ---
Kristen Stewart tries to be sexy by pulling up her dress to reveal more of her sinfully pale thigh while on live TV in the GIF above.
Kristen must think she is being pretty coy, by running her hand up her leg to make it look like she accidentally pulled up her dress. Of course there are no accidents when it comes to heathen actresses committing brazen displays of depravity like this, as Kristen Stewart knows full well what she is doing.
Unfortunately for Kristen even after pulling up her dress she is still not even remotely sexy. Kristen needs to realize that she is just some frumpy girl they chose to star in the "Twilight" series because she wouldn't intimidate the mouthing breathing nerds that read those horrible stories.
With that in mind Kristen Stewart would have been better off uncrossing her legs, and shoving her fingers up her snatch while winking at the camera. With her plain looks there is certainly no time for subtlety.