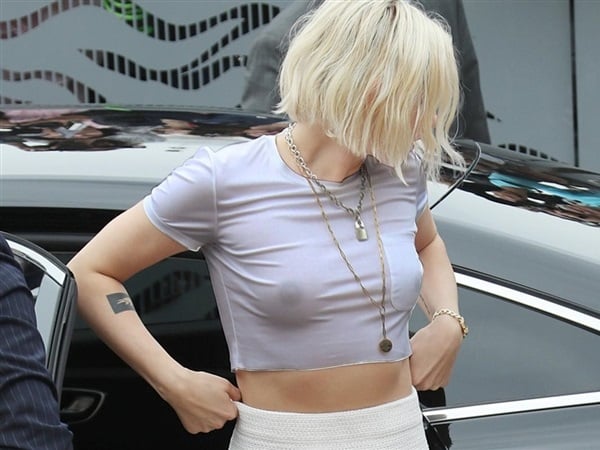 ---
Kristen Stewart shows off her hard nip pokies while braless in a see through top at the Cannes Film Festival in the photos below.
One can not really blame Kristen Stewart for having erect tit toppers in this situation, for Cannes is situated on the Mediterranean Sea so the smell of fish wafting in the air was sure to arouse her lustful lesbodyke desires. Add to that the fact that Kristen has developed a taste for stinky French puss after having dated the French songstress Soko, and it is safe to assume that she is also frothing from her lecherous lady lips.
Yes Kristen Stewart is one c*nt hungry lesboqueer who is clearly on the prowl for a new snatch to suckle on in these pics. Unfortunately for Kristen the only one interested in her sloppy itty bitty titties appears to be Woody Allen… And he is only paying attention to them because they remind him of his daughter/wife Soon-Yi's budding boobies back when he use to read her those "special" bedtime stories.