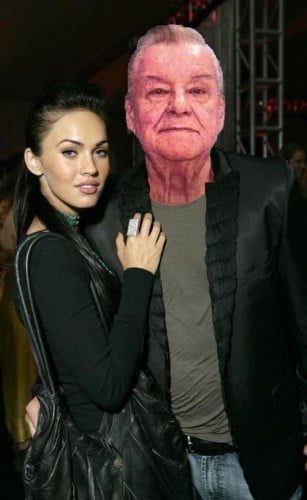 ---
Newly single Megan Fox has made it no secret that she's looking for love. In the past few days she has expressed interest in Angelina Jolie ("If I could just be Angelina's girlfriend, I would be so happy"), Robert Pattinson ("he's outrageously attractive, he's like a very pretty man"), and Korean pop star Rain ("There is this Korean Justin Timberlake named Rain, and I'm really on his situation now. I'm trying to fix this up").
Well it appears Megan has finally settled on a new man. He is none other than Holocaust Museum shooter James Von Brunn!
Megan first heard about James Von Brunn when he made headlines for opening fire on the Holocaust Museum in Washington DC, killing a security guard. When asked if this is what attracted her to Von Brunn, Megan responded, "Oh, most def! I guess I've always had a thing for bad boys."
When asked what attracted him to Megan, Von Brunn replied, "We both know what it is like to be fucked by Jews…and her tits." This is no doubt an allusion to Megan's previous relationship with former 90210 star Brian Austin Green, as well as Megan's tits.
However it's not all swastikas and sunshine for this new power couple. The Megan Fox-James Von Brunn relationship, or "MegVon," is facing some rather serious hurdles. For one there is a bit of an age gap, with Von Brunn being 88 years old and Megan Fox being just 23. Also there is the little matter of Von Brunn being charged with capital murder and hate crimes.
But these two lovebirds are committed to make this work. James Von Brunn sums up their relationship's mantra thusly; "Love will conquer all… Heil Hitler!"