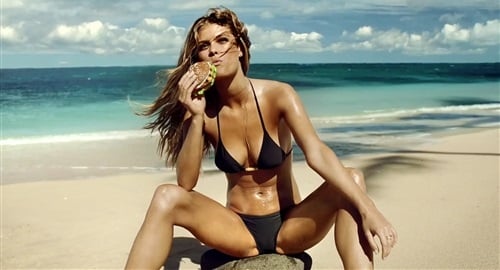 ---
Model Nina Agdal spreads her legs while in a bikini in the photos below advertising Carl Jr's new charbroiled Atlantic cod fish sandwich.
Of course nothing elicits a craving for a low quality fish sandwich better than Nina Agdal with her legs spread open. In fact just looking at these pics of Nina can put the taste of the ocean in your mouth.
Yes there is no doubt that Carl's Jr is going to move a lot of fish sandwiches with these photos of Nina Agdal. However, unfortunately for Nina the only thing these pictures make me crave are some heavy rocks, and her travel schedule.