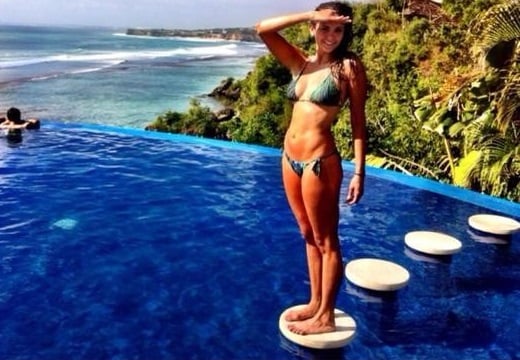 ---
"The Vampire Diaries" star Nina Dobrev tans her shameful taut feminine body in a bikini, and then brazenly shows off her golden brown tan while in mini dresses in Paris.
If Nina Dobrev wants a tan then she should get one the way Allah intended; by spending hours on end under the intense desert sun doing her chores while tiny amounts of sun light leach through her burka. Stripping nearly naked in a bikini and standing on some pool makes Nina Dobrev's tan ill-begotten, and thus Shariah law requires that it be peeled off of her with a dull scimitar.
Of course it is not surprising that Nina Dobrev then decided to flaunt her blasphemous tan in mini dresses without fear of retribution while in Paris in the photos below. Because everyone knows the French are far too depraved and cowardly to do anything about acts of sun-kissed mini dress heresy.