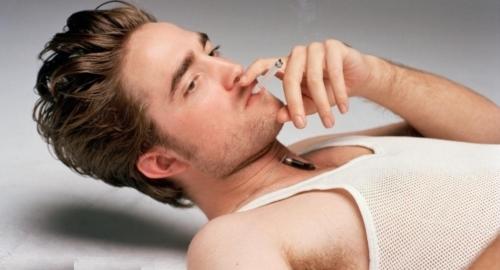 ---
Twilight beauty Robert Pattinson is pregnant!
A month ago we received reports that the Twilight star was expecting his first child. Never one to take such serious news at face value Celeb Jihad sent our best investigative journalist to get to the bottom of this story.
OK OK maybe we just payed a bum $20 to go through Robert Pattinson's garbage. The point is we investigated. Anyway, it is not what we found in his garbage that will shock you, but what we did not find (though some would say the sheer volume of empty lip gloss containers is a bit shocking).
After a month of going through Robert Pattinson's garbage we found not one used tampon! This basically confirms that Robert Pattinson is preggers!
The identity of the father is still in question, but our sources tell us it is none othr than Robert's Twilight co-star the devastatingly handsome Kristin Stewart. But it could just as easily be any of other Hollywood leading men that Robert has been romantically linked too.
No word yet if Robert Pattinson's pregnancy will affect the filming of the 3rd Twilight film, "Twilight 3: Bella's Backdoor Banging" which is set to start filming in January.