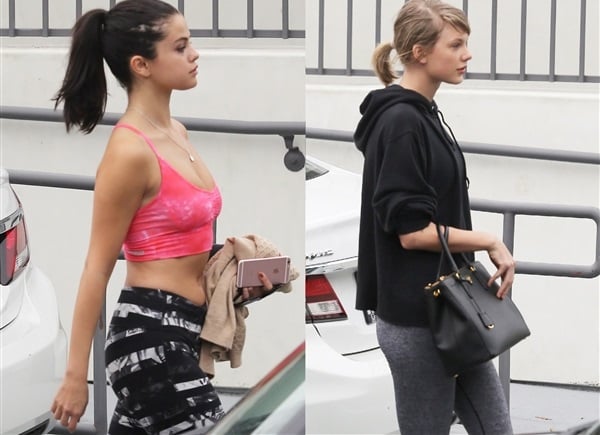 ---
Pop stars, best friends, and lesbodyke lovers Selena Gomez and Taylor Swift hit the gym to workout together in yoga pants in the photos below.
With the 2016 Summer Olympics in Rio just seven months away, Selena and Taylor are clearly training hard in the hopes of landing a spot on the US muff diving team. Of course Taylor was a favorite to not only make the team but medal back in the 2012 games in London, but had to pull out of the trials when she sprained her jaw after attending a Victoria's Secret fashion show.
However, by all accounts Taylor is back in top form, and with Selena having been her training partner for years now both girls no doubt have the experience to make the team and go for gold by devouring the pink in Brazil. In fact, barring a freak occurrence like a lacerated tongue or an outbreak of oral gonorrhea, one would expect both Taylor and Selena to be on the podium wiping away tears from their eyes and vaginal juice from their lips as "The Star-Spangled Banner" plays over the loudspeaker.