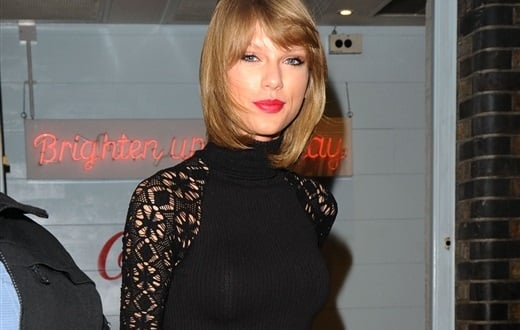 ---
Taylor Swift continues being a naughty girl this Christmas season by wearing stockings, a very short red plaid skirt, and an extremely tight sweater with no bra while out in London in the photos below.
Obviously Taylor Swift is hoping to get her stocking stuffed, chimney swept, and her bells jingled by prancing around in such a seductive Christmas outfit. It is just a shame that one of the many righteous Muslims that now inhabit London did not happen by and hurl a lump of coal at this brazen harlot.
However, thanks to the UK's high rates of impotence and liberal immigration laws, one day soon us Muslims will be the vast majority and London will be completely under Shariah law. When that glorious day comes girls like Taylor Swift will pay dearly for trying to get "shagged" by parading their sinful feminine bodies around like this. Passing down judgement upon them will truly be the gift that keeps on giving.