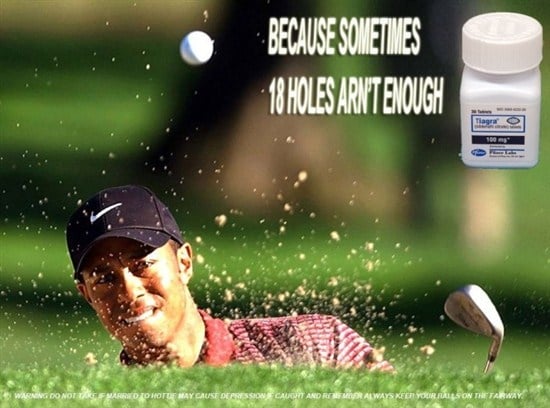 ---
Tiger Woods lost another major sponsor today when General Motors announced they were cutting ties with the golfer and serial adulterer. GM is just the latest in a long line of major companies that have dropped Woods in the past month joining Gillette, Tag Heuer, Gatorade, Accenture and AT&T.
However, the news is not all bad for Tiger. Celeb Jihad has learned that Tiger has just signed on with a major drug company to release his own brand of impotency medication to be called "Tiagra". They have already released their first AD featuring Tiger with the slogan "Because Sometimes 18 Holes Aren't Enough".
Tiagra is said to be more powerful then anything on the market today. According to literature released by the company, "Tiagra will make you so God damn hard and horny you'll be able to f*ck a mountain." No word yet if a prescription will be required.