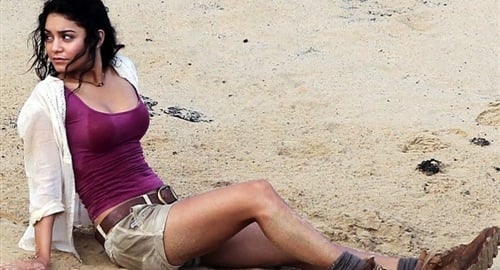 ---
The picture above is from the set of Vanessa Hudgen's new movie. Can you guess what historical figure Vanessa is portraying in the movie?
Why it is Harriet Tubman of course! You know the famous black woman who helped free slaves through an "underground railroad", and who (I think) founded the infamous LA street game known as the "Crips".
While it is a well documented historical fact that Harriet Tubman did run around on the beach with her big wet tits bouncing around in a tank top, the producers of this movie are missing one important fact. Harriet Tubman was black and Vanessa Hudgens is some sort of mongrel white Mexican hybrid.
Yes Hollywood we know that black people are a pain to work with because they come in late and steal things, but that does not mean you can take a white girl and have her play a black just because she has nappy hair.
At the very least they should be putting Vanessa Hudgens in "blackface" like the old vaudeville shows if she is going to be playing this bosomy version of Harriet Tubman. Come to think of it, Vanessa Hudgens running around in black face with her tits hanging out pretending to be Harriet Tubman is just the sort of movie I would pay to see.