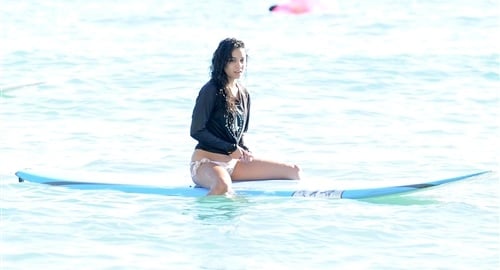 ---
It can not be easy for a horny kuffar slut like Vanessa Hudgens to pretend to be a blatant homosexual like Zac Efron's girlfriend for all these years.
That is why it should come as no surprise that Vanessa Hudgens was caught taking out her sexual frustrations on a helpless surfboard yesterday.
As you can see in the photos below, the surfboard was out minding his own business floating in the ocean. When suddenly out of nowhere a sex crazed Vanessa Hudgens mounts him and proceeds to grind her junk into his flat wet surface.
Clearly years of pretending to date a gay has turned Vanessa Hudgens into a relentless sex fiend. The authorities would be well advised to lock her up for she has become a great danger to society as these pictures of her humping a surfboard show. Allahu Akbar!