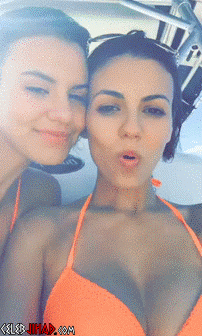 ---
Victoria Justice bounces her boobs up and down in a bikini while riding on a boat in the GIF above.
Victoria is on vacation right now with her younger sister in the Florida Keys. It is just a shame that the Justice girls didn't travel just a few more miles south to their ancestral homeland in the Mexican nation of Cuba. For if they did they would be having an "epic Spring break", as the state run brothel collective is always looking for more able-bodied female comrades to service the people's needs.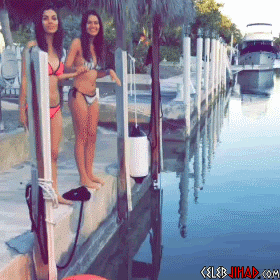 Yes instead of running around in bikinis jumping off of docks while hopped up on key lime pie (like in the GIF above), Victoria and her sister could have been having the time of their lives on an old mattress in a dank room off of a Havana back alley. Of course girls today don't want to spend their Spring break the same way that their Moms use to, so instead we are stuck with the tame photos below of the Justice sisters just laying around in bikinis.